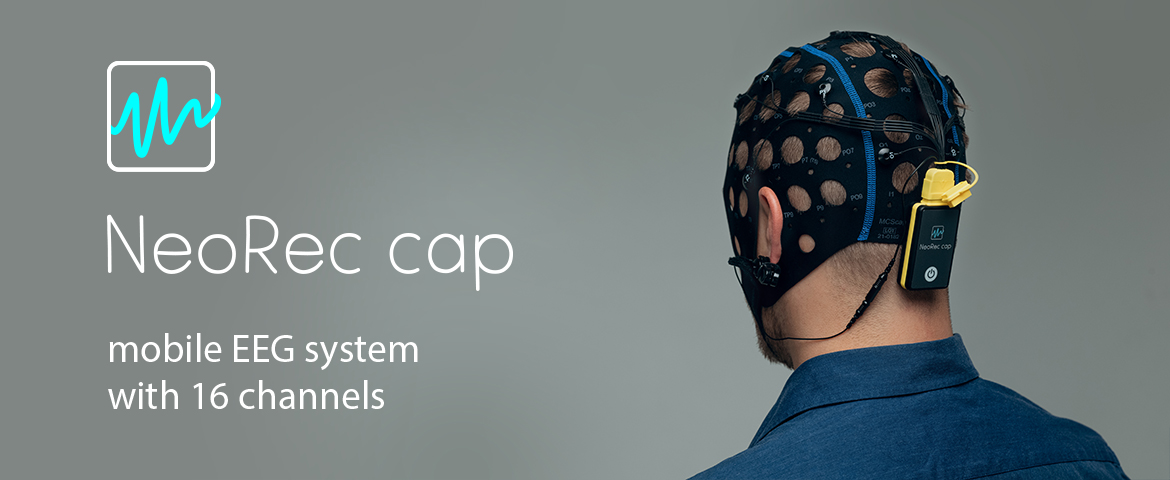 20.04.2022
NeoRec cap – EEG cap with 17 pre-installed Ag/AgCl sintered electrodes and 16-channel DC mobile EEG amplifier with a built-in accelerometer.
EEG amplifier is designed to record EEG and other bioelectrical signals with wireless real-time data transfer to a PC.

NeoRecCap can be used for education, research and development in EEG, neuro-computer interfaces (braincomputer interface, direct neural interface, brain interface), bio-feedback (BCI), neuromarketing, neurogaming, brain fitness.

NeoRec cap intended to record EEG and 3D acceleration events to files of different formats (EDF+ 16 bit, BDF+ 24 bit, GDF 32 bit) or transmit it online via stream LSL (Lab Streaming Layer) for analyze by third-party software as MATLAB / EEGLAB, OpenViBE etc.

For developers of their own software, interaction via API is provided.

SET INCLUDE
1. EEG amplifier NB2-EEG16
2. Electrode cap PROFESSIONAL NB2-16 or BASE NB2-16
3. USB charging cable
4. NeoRec software
5. User manual
6. Box for storage

Additionally, you can purchase adapters with touchproof connectors or a common DB25 connector, an extension cable,
EEG caps with different sizes, installation kit, solid gel granulGEL and other EEG accessories - https://mcscap.com/catalog/mobile-system-neoreccap/.

Back to the list